Ten Ready To Go Thinking Of You Gifts
Having the perfect thinking of you gift delivered to someone in your life isn't easy. You want it to be personal, thoughtful, and most importantly, simple to arrange.
Here at BearHugs, we've got a whole range of Ready To Go hug in a box gift boxes, specially designed to bring warmth, comfort and joy to each recipient - the perfect way to let someone know you're thinking of them.
Relaxing Thinking Of You Gift Boxes
Is someone you know in desperate need of a pamper? Do you want to help them take a moment for themselves for some much needed R+R?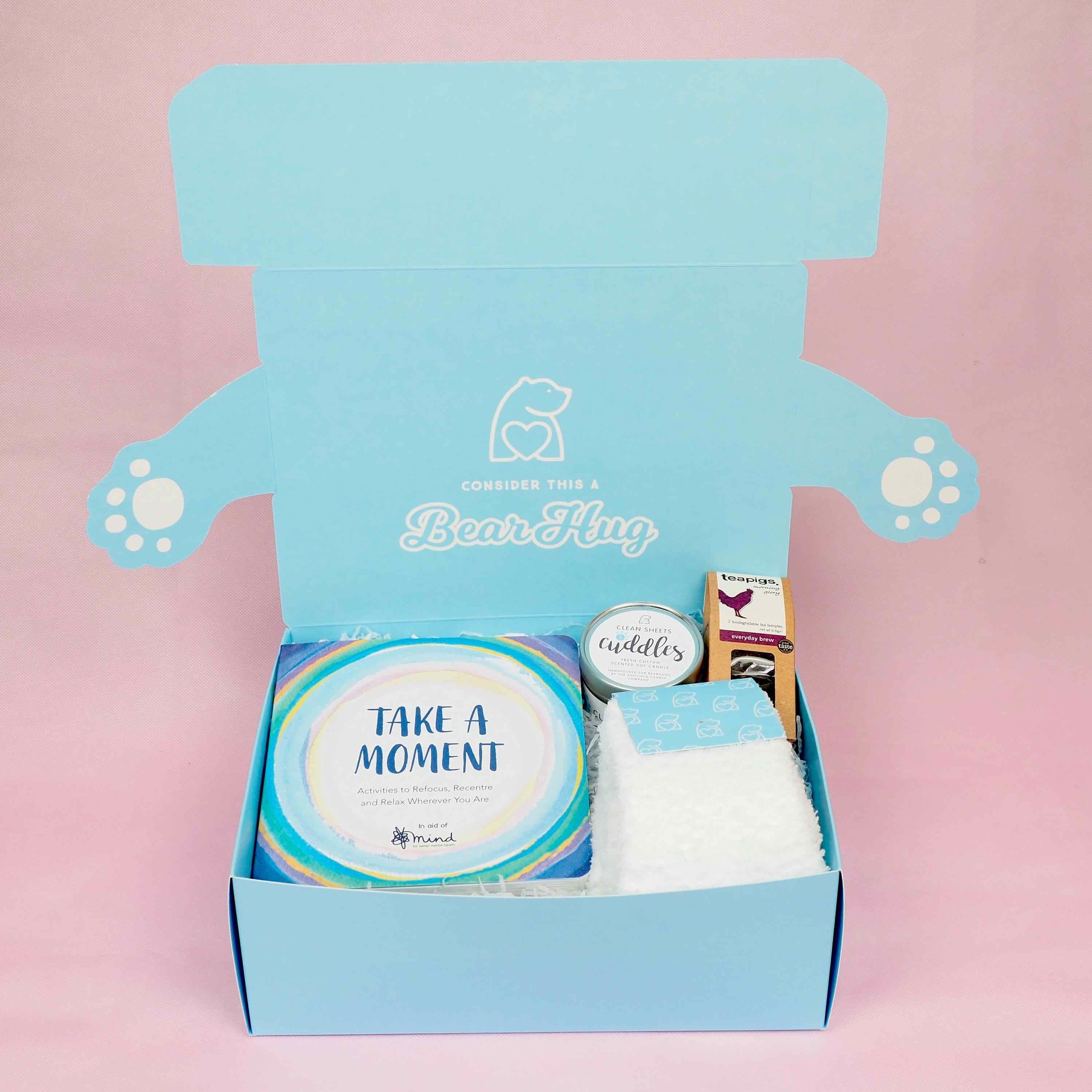 Take a Moment BearHug
Only 4 left in stock
Only 4 left in stock
Only 4 left in stock
Only 3 left in stock
Our Pamper BearHug contains everything someone needs to give themselves a bit of a pamper: super cosy bed socks, a 'Cuddles and Clean Sheets' Fresh Linen Scented Soy Wax Candle, a delicious luxury chocolate bar and a pampering product of your choosing.
Our Take A Moment BearHug is perfect for encouraging a loved one to take a moment of calm. Developed in partnership with Mind, the mental health charity, the Take a Moment book in this gift box is designed to help you or your loved one do just that. Whether you or your loved one need to de-compress, refocus or just relax, each page has a different technique or exercise providing expert support and inspiration on the go. The book is accompanied by a Teapigs tea mini pack, our 'cuddles and clean sheets' fresh linen scented soy candle and a pair of super soft cosy socks.
Positive Thinking Of You Gift Boxes
The Sunshine BearHug is the perfect gift box to put a little sunshine in someone's life. With this lovely you get a copy of The Happy News newspaper, a 'You are my sunshine' enamel pin badge, a 'grow your own' sunflower kit and a super cute jar of retro sweeties.
Our Extra Special Sophia BearHug is a great way to send a hug in a box while contributing to a great cause at the same time.
This extra special hug in a box contains relaxing lavender and jojoba bath salts, nourishing lip balm, a twin pack of pretty floral notebooks and a birch wooden coaster engraved with 'Hello, Lovely' - and all profits go to help Sophia Fights Lyme.
Couples Thinking Of You Gift Boxes
Want to create a special moment with a loved one in your life? Or give a deserving couple you know a lovely evening together?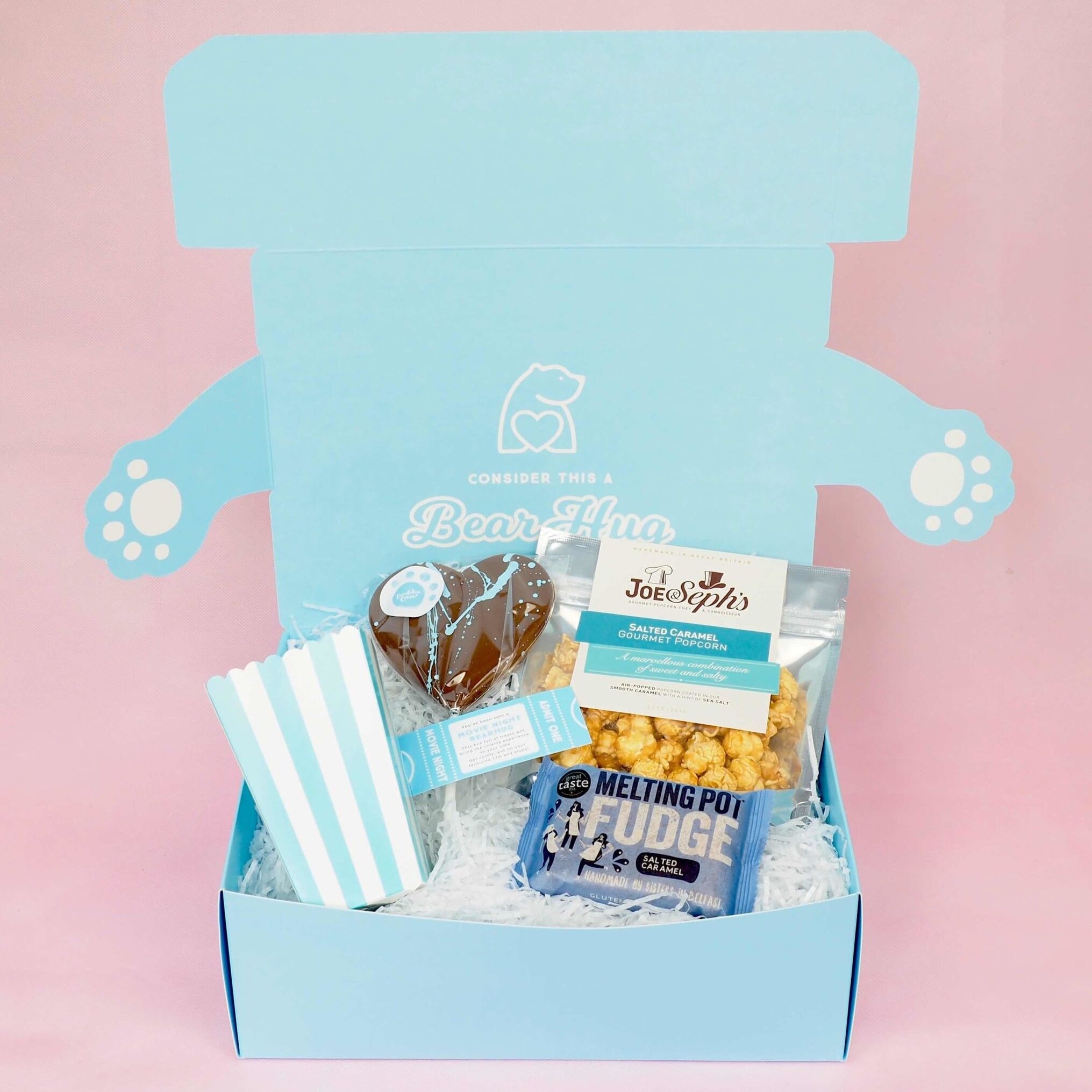 Our always-popular Movie Night BearHug contains everything you need for an at-home Movie Night - Joe and Seph's caramel and sea salt popcorn, vintage style popcorn box with movie night ticket stub, milk chocolate heart-shaped lolly by Dandelion Cocoa, and your choice of additional sweet treat.
We've also got the adorable Sharing's Caring BearHug. This hug in a box, including a pair of our signature BearHug mugs, teapigs teas and island bakery biscuits , makes a perfect 'thinking of you' gift for a couple on your life.
Hot Drink Thinking Of You Gift Boxes
The classic BearHug in a Mug BearHug has been a customer-favourite from day one of BearHugs, complete with BearHug in a Mug mug, and your choice of delicious Island Bakery biscuits and Teapigs tea packs.
And for the coffee lovers, we've got the Coffee BearHug, complete with your choice of coffee from Sheffield's Forge Coffee Roasters.
Tasty Thinking Of You Gift Boxes
The Tasty Treats BearHug is perfect for letting a special person in your life know you are thinking of them. It contains a whole range of tasty treats, including caramel and sea salt popcorn, your choice of melting pot fudge, infusion fruit cake by Tipple Tails, smoked almonds and your choice of Island Bakery biscuits.
And we've also got the Vegan Tasty Treats BearHug complete with delicious vegan treats, including luxury dark chocolate by Dandelion Cocoa, dark chocolate blue-nosed bear, melting pot fudge, your choice of snack pack by I Love Snacks and delicious vegan hot chocolate stirrer.
To have the perfect thinking of you gift delivered to your loved one, simply choose the perfect hug in a box, add your personalised message, and we'll take care of the rest!