Student Hug in a Box Care Packages
The start of a new year as a student can be a really tough time - and one that reports are showing more and more people struggle with. The hardest thing can be the separation. You might be away from family, your old friends, your old support network. That's why many of our customers like to send our BearHugs gift boxes as student care packages at the start of the new year - to let that special someone know that they are there with them, even if they can't be in person.
A PAMPERING STUDENT CARE PACKAGE
This hug in a box comes with super cosy bed socks, a delicious luxury Dandelion Cocoa chocolate bar, our special Cuddles and Clean Sheets Candle and a pampering product of your choosing - to make sure you've put together the perfect pamper box together to help someone get through that especially stressful time.
THE BOOK-LOVING STUDENT CARE PACKAGE
Do you know a student who loves nothing more than sitting down with a beautiful new book and a brew? The Classic and A Cuppa BearHug is the perfect way to treat a book-loving student. This unique care package contains a classic book of your choosing, a wooden bookmark, delicious Island Bakery biscuits, a Teapigs Everydaw Brew mini tea pack and a delicious mini chocolate bear.
Classic and a Cuppa BearHug
Only 2 left in stock
Only 1 left in stock
Only 2 left in stock
Only 3 left in stock
Only 1 left in stock
Only 1 left in stock
A PEACEFUL STUDENT CARE PACKAGE
The Take A Moment BearHug is designed to help someone do exactly that...take a moment. This hug in a box contains the Take A Moment book, developed in partnership with the mental health charity Mind. The book is accompanied by a Teapigs tea mini pack, our Cuddles and Clean Sheets candle and a pair of super soft cosy socks. Perfect for the student who needs to decompress, refocus, relax or just take a moment for themselves.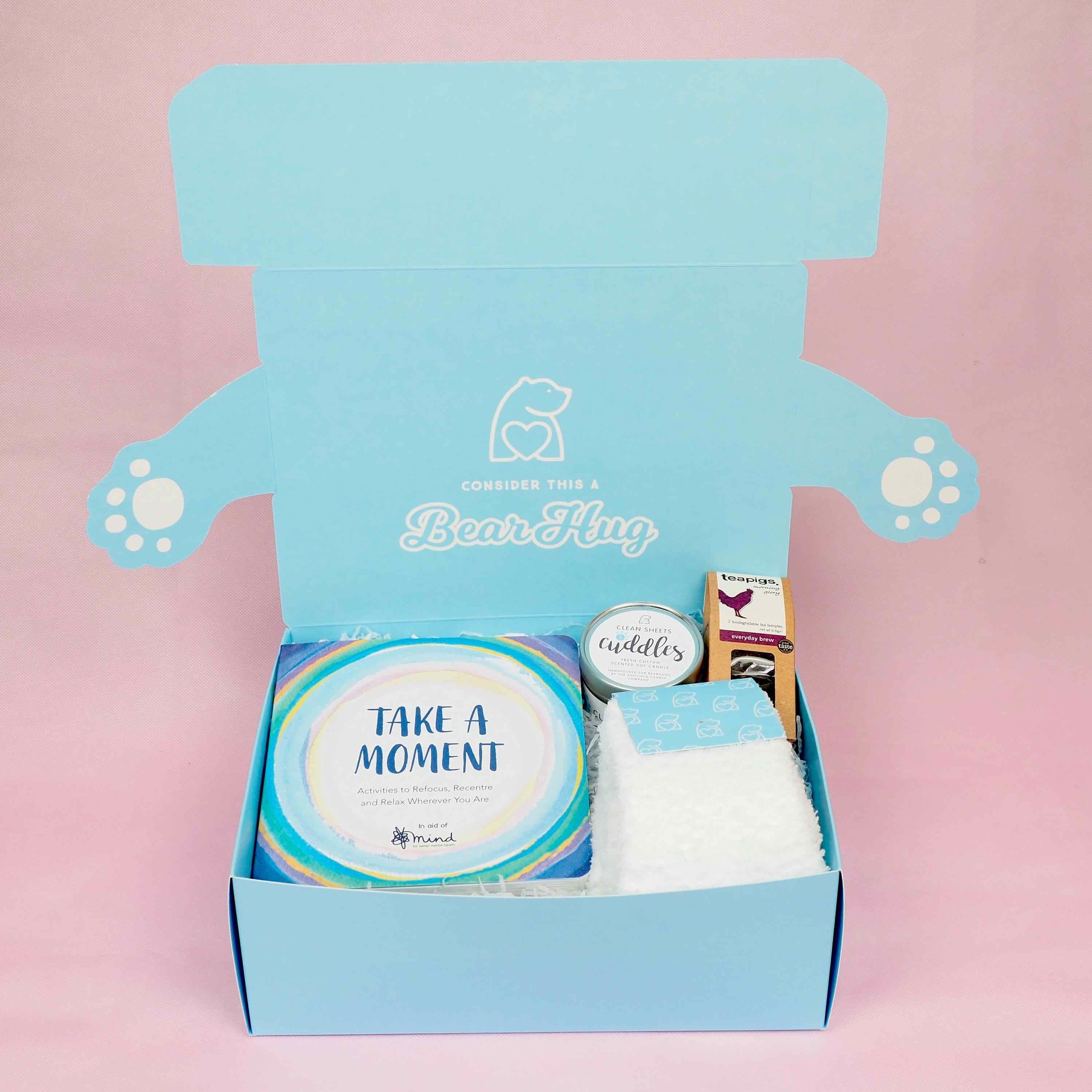 Take a Moment BearHug
Only 1 left in stock
Only 2 left in stock
Only 2 left in stock
Only 2 left in stock
A CUDDLY STUDENT CARE PACKAGE
For the student really in need of a cuddle, we think the Big Hug BearHug can't be beaten! This care package contains our trademark cuddly pal, Bill The BearHugs Teddy Bear, a delicious milk chocolate heart lolly and a Clean Sheets and Cuddles scented soy wax candle.
AN EXTRA SPECIAL STUDENT CARE PACKAGE
Our Extra Special BearHug means a lot to us here at BearHugs. This special hug in a box contains a twin pack of pretty floral notebooks, relaxing lavender and jojoba bath salts, nourishing lip balm and a birch wooden coaster engraged with 'Hello, Lovely'. Not only that, but the recipient will know that just by receiving the box they have helped raise funds for a cause very close to our hearts.
A MINDFUL STUDENT CARE PACKAGE
Being a student can be a bit overwhelming. The 'Write It Down, Let It Go' BearHug is perfect for sending to the student who needs a bit of an outlet for their worries. This care package contains the wonderful Write It Down, Let It Go journal, an It'll All Be Ok pen, relaxing lavender bath salts and lavender essential oil remedy roll. The perfect combination for the student who feels it is all getting a bit much and needs to take some much-needed R&R time.
And don't forget, if you want to add something extra special to your BearHug, you can put any of our special items in any BearHug gift box, so you can be sure you're sending the perfect student care package to the student who you love most.