Unique Corporate Gifts
In today's business world, where we're caught up in emails and virtual meetings, genuine connection can sometimes get lost in the shuffle. We're here to help lovely organisations send one-of-a-kind "hug in a box" hampers which are far more than just a gift; they're a way for businesses to add a more human personal touch and show they care. Whether it's for clients, employees, or partners, our hug in a box thoughtful gestures are a way to say, "we appreciate you," and to build a bond that goes beyond the usual business stuff.
From one-off gifts to bulk orders on special occasions
Whether it's a one-off new starter, retirement or congratulations on your new baby gift or an order of thousands of unique End Of Year, Christmas or Easter hampers, we love helping all kinds of thoughtful organisations send equally thoughtful gifts.
Got a particular idea in mind? Run it by us - we'd love to help!
Get in touch about Corporate Gifting
Corporate Gifting With Us
Bespoke Gift Box Development With Your Branding

We can work with you to design perfectly bespoke hug in a box gifts.

However many hugs you'd like to order, whether it's 1 or 1000, we can help you choose the perfect combination of items for your lucky recipient(s).

You can also always add a personalised message for an extra special touch.

For orders of 100 units or more, we can...

- Add your branding to our gift boxes

- Add your branding to certain products within our gift boxes

- Create bespoke branded message cards
Range Of Delivery Options

Whether you'd like your gifts sent:

- All to one central delivery address

- Directly to the doorsteps of individuals

Or

- A combination of the two

We can help you arrange this, no bother!

If you'd like your order delivered to multiple delivery addresses, we send you with a simple spreadsheet for securely providing us with delivery addresses, personalised messages and any dietary requirement for your lucky recipients.
Discounted Bulk Orders

If you're looking to order corporate gifts in bulk, we can offer discounted rates and work with you to make the process as easy as possible.

Whether you're looking for 50 or 5000 gift boxes, we're here and ready to help.
Special Seasonal Gifts

We love helping thoughtful organisations show their appreciation at special times of the year such as Christmas, Eid and Easter. We bring in extra seasonal treats especially to help you and your employees, clients or partners celebrate the occasion.
Quick Turnaround

We aim to respond to all corporate gifting enquiries within 1 working day and, as long as we have the stock in the BearHub, can fulfil most requests within a few days.
Variety Of Secure Payment Options

Once you've confirmed your order, we'll send you a VAT invoice. You can make payment by BACS, PayPal or secure card payment.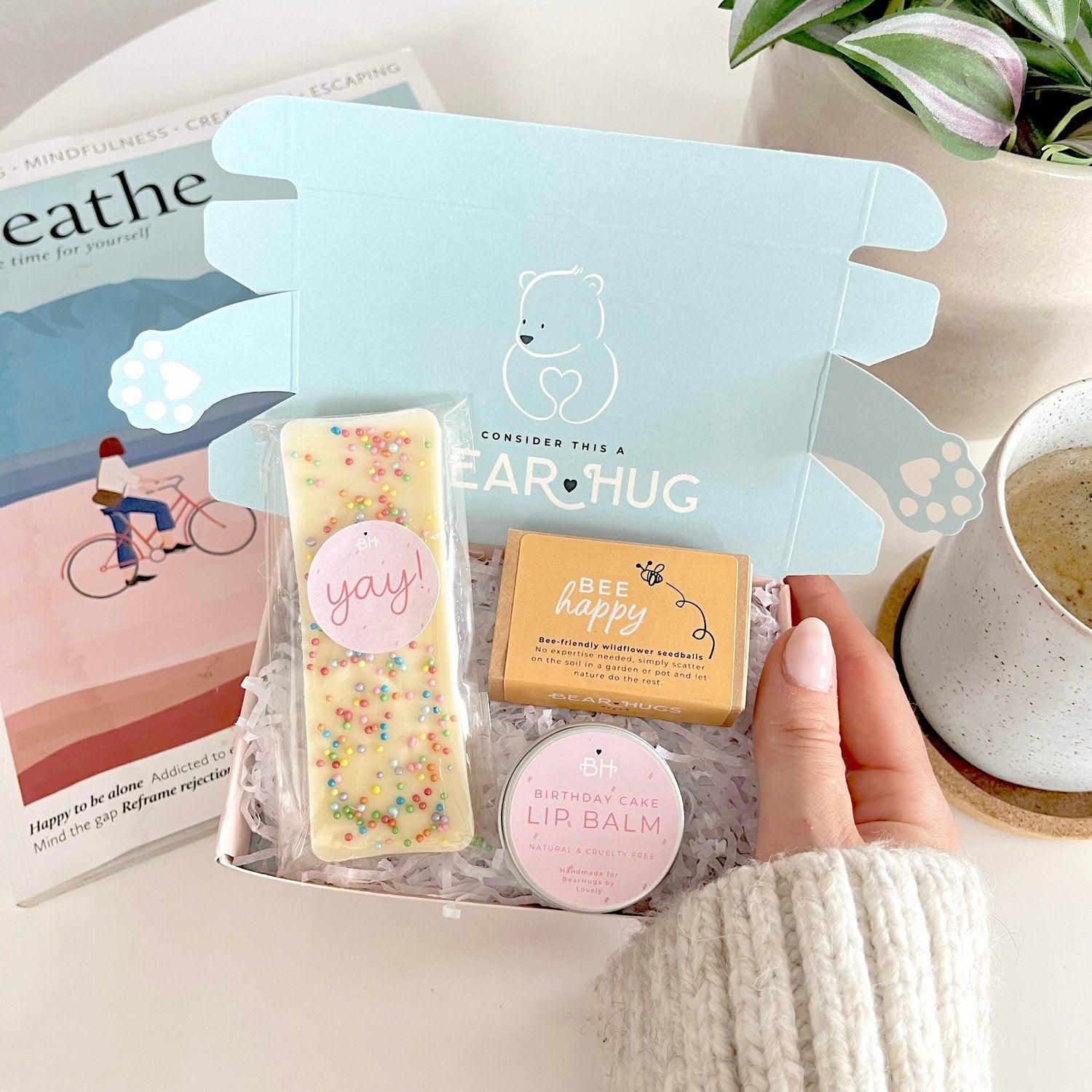 Never miss a team birthday again with a BearHugs Corporate Gifting Account
Keeping track of employee and client birthdays or important milestones can be tricky when swept up in day to day work. We offer the option to open a Corporate Gifting Account with us. You provide the key dates, addresses and gift messages and then we send your gifts out when the time is right! It's super simple and we invoice you at the end of each month for the gifts you've sent. It's an ideal solution for new client onboarding gifts and work anniversaries too, if we do say so ourselves.
Enquire Now
Tea and Coffee Break Packages for Virtual Events
Make your online virtual conference all the more memorable with tea and coffee break gift packages delivered directly to attendees' doors. Starting at just £7 including delivery.
Enquire now
"We put in a big order last minute and BearHugs were able to deliver within a couple of days for our event at short notice. Everyone in the team loved the BearHug gift, it was of a high standard and the quality of the products was absolutely amazing. The feedback was great on how much the team appreciated the gift. Great and efficient service and nothing was too much trouble."
- Claire, Nationwide
A few organisations we've sent hugs for…